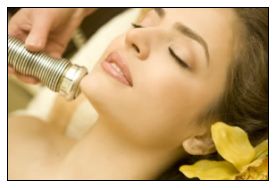 Diamond Dermabrasion is one of the most popular and proven methods for maintaining healthy, vibrant skin tone and texture.
It is used to treat a variety of conditions including acne and acne scars, age spots, enlarged pores, wrinkles, and rosacea, a chronic skin condition involving inflammation of the cheeks, nose, chin, forehead, or eyelids. Diamond Dermabrasion can even be used to treat stretch marks.
For clients without any skin conditions, Diamond Dermabrasion restores balance and clarity to the skin, while improving skin tone and elasticity.
A Diamond Dermabrasion treatment involves a microderm machine that emits a pressurized stream of crystals onto the skin's surface. The crystals typically include aluminum oxide – the medspa industry standard – as well as zinc oxide, corundum, sodium chloride, sodium bicarbonate and magnesium oxide.
The crystals safely and comfortably slough off dead skin cells, eliminate blackheads, shrink large pores and leave your skin feeling – and looking – remarkably soft and smooth.
Diamond Dermabrasion treatments can also help to reverse the effects of sun damage, exposure to environmental elements, and aging. They are particularly effective in the treatment of acne because of how well the process cleans your pores.
Dramatic results can often be accomplished in a single treatment session, which typically lasts 30-45 minutes. Recovery is virtually instantaneous, with no discomfort.
Often, you will notice an immediate improvement in the overall appearance of your skin after just one session, and as your treatment program progresses, the improvements will continue.
Absent any severe, chronic skin conditions, the dramatic results of Diamond Dermabrasion require only 1-2 treatments during the first month and an average of one ongoing treatment each month thereafter to maintain a dramatically improved complexion.
For optimum long-term results, Diamond Dermabrasion can be combined with other Bella Aesthetica treatments, such as peels, IPL photofacials and laser skin rejuvenation.
Coupled with the use of our Bella Aesthetica MedSpa & Wellness Center professional-grade skin care products, your skin will be healthier and project a more youthful, radiant appearance than it ever has before.
Our signature Elite Diamond Dermabrasion session, which includes fruit enzyme and a hydrating mask, lasts 50 minutes.
Our Express Diamond Dermabrasion lasts 30 minutes.
Contact us for a FREE CONSULTATION, a $110 value.